New Design for the Kaiser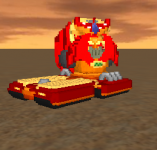 The Kaiser of the Kappas have been redesigned to give a more intimidating look.
The Kaiser's weapons have also changed, now having 2 kind of weapons.
-Primary-
Fire Raiser:
Fires a powerful heat ray that can burn away any foe in its path.
-Secondary-
Hisou Nova:
When deployed, it will generate a significant amount of heat from its body with the power of nuclear fusion and discharge, causing a catastrophic explosion that engulfs nearby enemies whole without any chance of surviving.
Gameplay video:
HisouKaiser gameplay - Mod DB
yaD s'looF lirpA yojnE
Topic : Touhou Project
Genre : Games